Suprema

Leader in Biometrics & IP Access Control
BioEntry
Designed for Simplicity, Superb Engineering
The BioEntry Plus/W exquisitely blends the benefits of a next generation distributed IP system with the high level security provided by biometrics. Engineered by the World's leading biometric experts, BioEntry Series offers unrivaled quality with exceptional engineering. BioEntry W takes the series one step further by encasing a world renowned product into an IP65 vandal resistance housing and adding PoE (Power over Ethernet) capabilities. It is truly the ultimate for outdoor biometric access control systems.
BioEntry W
BioEntry Plus
Materials
BioEntry W
Fingerprint IP Reader & Controller

Main features

World's Best Fingerprint Recognition Technology
Cutting-edge algorithm ranked top in FVC's and MINEX
IP65 Certified Dust & Water Protection
Ideal for harsh environment and outdoor installation
IK08 Vandal-resistant Structure
Heavy-duty Lexan™ resin housing with doubled thickness
Ultra Performance
1:2,000 matches in 1 second
Power over Ethernet
Power supply through a single CAT5/6 wiring
Versatile Interfaces
TCP/IP, RS485, Wiegand, relay
RF Card Options
13.56MHz Mifare/DesFire
&nbsp
Technical Specification for BioEntry W
CPU
533MHz DSP
Memory
8 MB flash, 8MB RAM
Fingerprint Sensor
Optical
Camera
Face detection & videophone
RF Card Options
13.56MHz Mifare/DesFire
Template Capacity
10,000 (1:1)
Max User
5,000
Log Capacity Fingerprint
50,000
PoE
Yes
Interfaces
Wireless LAN(optional), TCP/IP, Wiegand
RS485, RS232, TTL I/O, Relay
Certification
CE, FCC, KCC, IP65, IK08
Tamper
Switch
Sound
16 bit Hi-Fi voice & sound indication
Operating Temp.
- 20°C ~ 50°C
Operating Voltage
12vDC
Dimensions (mm)
50(W) x 172(H) x 42(D)
BioEntry Plus
Fingerprint IP Reader & Controller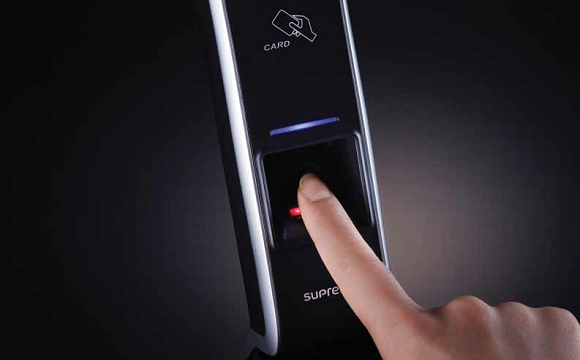 Powerful 400MHz DSP Powered by 400MHz DSP, the BioEntry Plus delivers fast matching speed, rapid response and exceptionally low error rate. This powerful processor is capable of handling fast and accurate fingerprint matching process, and ensures uninterrupted device operation.
Intelligence at Doors
With powerful internal CPU and comprehensive communication interfaces, BioEntry Plus provides both reader and controller functionalities at the door. In addition, it can also control door locks with its built-in door relay or through external relay unit. This concept not only reduces your cost for the entire system by removing costly access control panels, but also improves system stability by eliminating single point of failure that affect whole system.
Versatile Interfaces -extra flexibility
BioEntry Plus allows flexible system design and cost advantage with comprehensive communication interfaces and relays such as TCP/IP, RS485 and Wiegand. In addition, it provides multiple in/out relays to offer extra flexibility. For further expansion, optional external relay unit is also available.
IP-to-the-door Concept : Flexible & Cost-saving Solution
Featuring IP-based system topology, BioEntry Plus's IP access control system offers extra flexibility in designing your security system while reducing cost on installation & maintenance. Compare to conventional access control system, IP access control provides lower cost per door with less wiring and utilization of existing network infrastructure. The concept also simplifies installation of systems with multiple sites since it only requires basic internet link to remote locations.
Suprema Algorithm
At the core of every Suprema access control device, the world's most powerful fingerprint algorithm assures unrivaled speed and accuracy. Recognized by FVC¹ and NIST MINEX Test², Suprema Algorithm has been proven to be one of the most sophisticated technology in biometrics industry.
¹ FVC: International competition focused on fingerprint verification software assessment.
² MINEX Test: Minutiae Interoperability Exchange Test by US Government's NIST.
&nbsp
Technical Specifications for BioEntry Plus
Memory
4 MB flash, 8MB RAM
Fingerprint Sensor
500 DPI Optical Sensor
Matching Speed (1:N)
1 : 2,000 < 1 sec
RF Card Options
13.56MHz Mifare/DesFire
Template Capacity
10,000 (1:1)
Log Capacity Fingerprint
50,000
PoE
Yes
Interfaces
TCP/IP, RS485
Operation Modes
fingerprint, RF Card, RF Card + fingerprint
Wiegand
64Bits configurable
Internal relay
deadbolt, EM lock, door strike, automatic door
Sound
Multi colour LED and Multi tone Buzzer
Operating Temp.
- 20°C ~ 50°C
Operating Voltage
12vDC
Dimensions (mm)
50(W) x 160(H) x 37(D)
The following are available for download
Download Brochure
Suprema BioEntry W
Download Manual
Suprema BioEntry W
Download Firmware
Suprema BioEntry W
Download Brochure
Suprema BioEntry Plus
Download Manual
Suprema BioEntry Plus
Download Firmware
Suprema BioEntry Plus
Important Notes: All firmware and software is available by request only. All downloads are provided for the latest version of software or firmware compatible with the serial number of the unit provided. All downloads require a serial number in warranty to be provided.
Please register here to be a member in order to have access to links
Fingerprint Terminals

BioStation T2
Innovative features with Suprema's sophisticated fingerprint technology.

D-Station
Dual-finger Technology based on 'Fusion Biometrics' algorithm

BioStation
BioStaton is a full-featured high-end fingerprint terminal

BioLite
World's smallest IP fingerprint terminal with access control and T&A features.

BioEntry
It blends the benefits of distributed IP system & high level biometrics security

X-Station
Touchscreen Access control terminal with face detection technology.

X-Pass
Ultra compact designed High-end leading-edge IP access control

BioMini
High level biometric security for PC & complex network environments.

Accessories
Encrypted communication I/O expansion for secure A/C system

Suprema OEM
Solutions to developers & S.I. for integration with various applications
Software

BioStar
Comprehensive A/C management software with intelligent IP readers.

Suprema SDK
Fingerprint enrollment and recognition for PC based application development.
Face Recognition Terminal

FaceStation
Next Generation Face Recognition Technology, perfect combination of beauty and performance.