L-1 Identity | Bioscrypt
One Person, One Identity...

4G V-Station Extreme
The 4G V-Station Extreme is the fingerprint Identification Terminal for the most extreme environments for physical access control and Time & Attendance
Designed for access control in the rain, sleet, snow and desert conditions, our IP 65 rated solution is built to address your concerns and perform in moderate to the most extreme outdoor conditions. Confidently deploy a biometric device create.
Features
Specification
Materials
Not every solution requires extreme weather performance. When you need a versatile device for use in moderate outdoor conditions and cannot compromise on offering superior performance and usability, the Bioscrypt 4G V-Station WR™ is the right solution for you. The Weather Resistant (WR) models have specialized components and a built in hood that offers protection against certain outdoor elements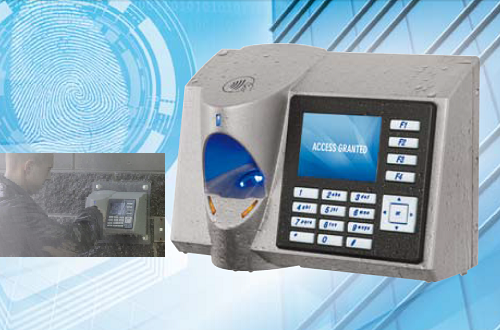 Features at a Glance

IP 65 Rated for Outdoor Environments
Built in Hood and Specialized Components for Weather Resistant Protection
On-device administration
2.5" QVGA Color LCD
Programmable Function Keys for 16 Time & Attendance events
Full IP and PoE Enabled (Optional Wireless LAN)
Largest Template Capacity in the Industry (500,000 in 1:1)
Temperature range from -20°C to 60°C (-5°F to 140°F)
Technical Spec for 4G V-Station Extreme
Ingress Protection rating
IP65
BENA Rating
NEMA 4X (undamaged by water and formation of ice
protection of corrosion
Operating temperature
with TEC module : -25°C to 70°C; -13°F to 158°F
without TEC module : -25°C to 50°C; -13°F to 122°F
Identify users with
Wet, Greasy and Damaged Fingers
Extra Feature
Fake Fingers, Anti-Spoofing Capabilities
Network /Communication Options
LAN, WAN and RS485; optional Wireless LAN
PC Connection
USB, RS232
Input/Outputs
Customizable format up to 512 bits
3 General Purpose Inputs
3 General Purpose Outputs (extendable to 6 outputs)
External Media
USB Memory
Integrated Door Relay Details
30V DC @1A Deadbolt, electromagnetic
(EM) lock, door strike, automatic door
Authentication Options
Finger only, Card + Finger
Internal Card Reader Options
Prox or iClass / MIFARE / DESFire
Speaker
Full Audio Support
Template Storage Capacity
25,000 in 1:1 authentication mode
5,000 in 1:N identification mode
Transaction Log Capacity
100,000 transaction logs stored on device
Power Supply
12 to 24V DC, Current Draw : 3A @12 VDC, 1.5A@24V
Flush mount option
Available
Dimensions (H)(W)(D)
181 X 254 X 109 mm / 7.2" X 10.0" X 4.3"

D

i

s

p

l

ay
3.5" QVGA Colour LCD
Regulatory Approvals & Certifications
FCC, CE, R&TTE, RoHS
Administration Software Options
SecureAdmin LiteTM Software or Secure SDK
The following are available for download
Download Brochure
Bioscrypt 4G V-Station Extreme
Download Manual
Bioscrypt 4G V-Station Extreme
Download Firmware
Bioscrypt 4G V-Station Extreme
Important Notes: All firmware and software is available by request only. All downloads are provided for the latest version of software or firmware compatible with the serial number of the unit provided. All downloads require a serial number in warranty to be provided.
Please register here to be a member in order to have access to links
Fingerprint Terminals

4G V-Flex Lite
Slim and Sleek Identification Terminal for Physical Access Control

4G V-Station Lite
Powerful Compact Identification Terminal for Physical Access Control

4G V-Flex
Identification Terminal in a Compact Design for Physical Access Control

4G V-Flex WR
The IP65 rating models components that offers outdoor protection .

4G V-Station
The full featured device unleashes a combination of power, usability & more.

4G V-Station WR
Unmatched Performance in a Weather Resistant Design

4G V-Station Extreme
If you are concerned about access control in rain, shine, snow or desert conditions.