Morpho
Morpho solutions are used worldwide to tackle crime,
protect identity and improve security.
MorphoAccess 500+ Series
Fast, Accurate and Reliable Fingerprint Terminal for Access Control and Time & Attendance
The MorphoAccess® 500+ Series (MA 500+) are versatile biometric terminals intended for access control and time & attendance. They use the Morpho proprietary algorithms, which have acquired worldwide reputation for their accuracy and level of performance. Their rapidity and networking capabilities enable them to address all security applications, from one-door control to the protection of buildings, warehouses, vast infrastructures and government agencies. MA 500+ offers value-added retailers and access control manufacturers a reliable, powerful and scalable solution.
Features
Specification
Materials
MorphoAccess® 500+ Series is a range of high-performance fingerprint identification terminals for Physical Access Control and Time & Attendance management: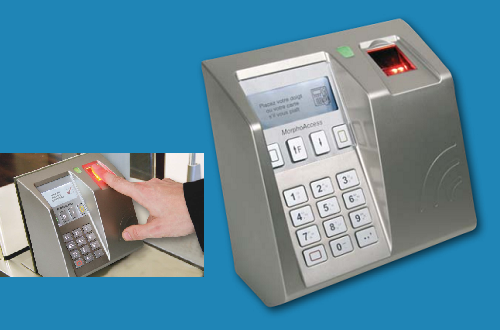 Main features
Multifactor authentication and 1:N identification
Large storage capacity: up to 50,000 users
Easy integration into existing systems
Power-Over-Ethernet (POE)
MIFARE® and DESFire® contactless card reader/encoder (optional)
Optional wireless LAN communication
FBI PIV IQS certified sensor

The know-how of the world No 1
- Wide area, accurate fingerprint sensor, for high definition fingerprint image acquisition
- The MA500+ terminals offer the highest level of security on the market
- Fast: 0.7 sec in authentication mode and 0.9 sec in 1:1000 identification mode
- Accurate: depending on the required level of security, with adjustable false acceptance rate (FAR)
Powerful capabilities in a small package
- The highest database capacity on the market: up to 50,000 users with MA-Xtended license
- Multifactor authentication: with MIFARE® and DESFire® contactless card reader, fingerprint and PIN code
- Operates in standalone or networked modes. For small populations, it is possible to capture fingerprints and encode badges on the terminal itself.
- Equipped with numerous interfaces for easy integration into existing systems
- Trusted and versatile
- Option: false finger detection with optronic sensor
Multipurpose software
- MorphoAccess® Enrollment & Management System (MEMS): Complete application for centralized management (enrollment, terminals management, verification station)
- Morpho Integrator's Kit (MIK): Enables integrators to interface rapidly their own proprietary Windows®based applications to the MA500+Series
- Software Development Kit (SDK): Can be proposed to VARs who want to develop and embed their own application in the MorphoAccess® terminal


Technical Spec for MorphoAccess 500+ Series
MorphoAccess Unit
Optical Sensor: 23 X 23 mm, 500 DPI MorphoSmart
Backlit LCD graphical display 128 X 64 pixels
Backlit keypad with 12 keys
4 programmable function keys
Buzzer and bi-colour LED
Dual-core ARM9 microprocessor with multi thread processing capability
Dry Contact relay
Interfaces
Communication port for identifier Management
Customised Wiegand IN & OUT, RS232, RS485,
Physical Dimension (W X H X D)
155 X 155 X 74 mm
Weight: 800g
Operating Condition
-10 to 50 degC (14 to 122 degF)

Humidity : 10 to 80%
Certifications
FBI PIV IQSFCC, CE, RoHS,
Database
from 3,000 to 50,000 users, (2 templates each) distributed in five databases of 10,000 users each (50,000 users capacity with MA-Xtended license)
Security
SSL on TCP.IP network
Secyre screws, antitheft and anti tamper switches
Power Supply
9 to 16 VDC (350mA at 12V) or PoE
The following are available for download
Download Brochure
MorphoAccess 500+ Series
Download Manual
MorphoAccess 500+ Series
Download Firmware
MorphoAccess 500+ Series
Important Notes: All firmware and software is available by request only. All downloads are provided for the latest version of software or firmware compatible with the serial number of the unit provided. All downloads require a serial number in warranty to be provided.
Please register here to be a member in order to have access to links
Fingerprint Terminals

Morpho Access 500+Series
Elegant design and high security in a small package

Morpho Access 500+
Fast, Accurate and Reliable Fingerprint Access Control and T&A Terminal

Morpho PC Solution
USB Multi-application Fingerprint Scanner

Morpho OEM Modules
Compact Biometrics Module for small form factor

MorphoSmart SDK
A simple SDK to develop any kind of application

Morpho Software Applications
Easy-to-use PC application compatible with any terminal of the MorphoSmart

Morpho iDENT
Morpho iDent is a product designed for mobile identification in the field
3D Face Reader

Morpho 3D Face Reader
Fast, Convenient, Secure Facial Recognition
Multimodel Vein Finger

Morpho Access VP-Series
Multimodal Finger Vein and Fingerprint Technology for Physical Access Control