Suprema

Leader in Biometrics & IP Access Control
BioStar 2
Web-based Open Security Platform
BioStar 2 is a web-based open security platform. The BioStar 2 is designed for simplicity, convenience and performance. It is fully compatible with the latest web standards and can be used from workstations or mobile devices. The modular architecture of the platform offers endless expandability to meet all your complex and unique access control solution requirements.

Specification
System
System Architecture
Web-based
Operating System
Windows
DB
SQLite
Max. Device
1,000
Server API
Restful API
Hyper Data Transfer
Yes
Concurrent Client PC
100
Access Control
Time Schedule
Unlimited
Access Group/Level
128
Max. Access Group Per User
16
Max. Fingerprint Per User
10
Device Administrator
Yes
Event Monitoring
Real-Time Log, Device Status
Door Status, Alert History
Extra Features
Dashboard
Yes
Convert to Printable File
User, Device, Door, Event Log, Alert History
Automatic Synchronization
Yes
(User, Access Group)
Automatic S/W Update via Cloud
Yes
BioStar
IP Access Control Management System
BioStar is a comprehensive access control management software featuring efficient TCP/IP based system architecture with intelligent IP readers. It supports wide choice of third-party devices and integration with other business systems which makes it the best solution in cost-reduction and flexibility in design.
BioStar SE
BioStar LITE
BioStar VideoPhone
BioStar SE (Standard Edition)
IP Access Control Management System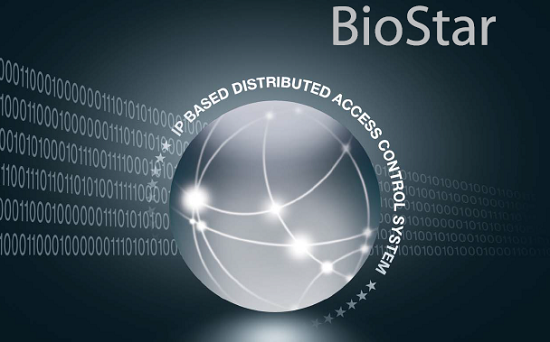 BioStar SE

BioStar is the name of Suprema's next generation access control system based on IP connectivity and biometric security. A biometric device installed at each door works not only as a reader but also as an intelligent controller on its own. Separate secure relay units can be installed inside a door to eliminate security breaches.
The meeting of biometrics and IP makes a perfect fit by leveraging the merits of each technology. Increasing biometrics cost can be compensated in BioStar by removing expensive control panels from the system and reducing wiring burden from a central panel to each reader. BioStar's IP based connectivity makes template distribution for biometric devices a no more difficult job.
Now, BioStar presents the future of access control systems.

IP based Distributed Access Control
The BioStar system goes a step beyond conventional access control systems, by combining unique biometric identification with configurable access card capabilities. With its intuitive easy-to-use GUI and wizard type settings, BioStar provides comprehensive access control security for enterprise-level systems to small-to-medium sized systems.

User Management

BioStar offers comprehensive user management and synchronization features with its sub-devices.

- Supports 4-level departments
- User search interface
- Multi-level administrator settings
- Customized authentication mode by user
- Records user card issuance log

Access Control

Administrators can build custom access groups by combining permissions for time zones and doors. With this feature, BioStar provides customizable, scheduled access control.

- Max. 128 access groups
- Max. 128 time schedules
- Max. 32 holidays configurable

Doors Management

Door management allows comprehensive control of doors and their controlling devices. It also support remote operation such as lock, unlock and reset alarms. .

- 4-Level door groups
- Max. 512 doors
- Set & configure alarm for selected doors

Visual Map Monitoring

Visual map allows users to monitor property in floor-plan style graphical overview. It enables administrators to monitor location of specific gate and conditions of adjacent gates in visualindication.

- Graphical icons for event indication
- Event group : 5 priority levels
- Alarm event management
- Log viewing by event groups
- Event notifications
- Monitoring interface for doors and zones

Zone Management

BioStar gives administrators complete control of various zones. Zones can be created with devices connected via TCP/IP or RS485 and can include a master device and up to 65 slave devices. Individual devices can be included in up to four zones.

- Fire alarm, alarm, anti-passback, entrance limit and access zone
- Controls up to 32-device zones
- Alarm setting for selected zones
- View event log for selected zones
- Muster zone with roll call report

Device Management

Administrators can control multiple aspects of devices with BioStar. In addition to authentication behaviors, BioStar supports configuration of input, ouput relays, actions and sounds. The system includes options for customizing sound and display settings for IP terminals.

- Configure access control devices & Secure I/O
- RS485 supports up to 8 devices & 4 Secure I/O's Server matching
- Real-time monitoring of device connection
- Wizard-type device search interface
- Easy firmware upgrade and reset
Enterprise-level Time Attendance
BioStar includes time and attendance(T&A) features to allow administrators to define time categories, shifts, daily schedules, and holiday settings. The T&A capabilities of BioStar can be used to enforce compliance with check-in and check-out procedures, restrict access to off-duty personnel, and report attendance data. BioStar allows administrators to customize T&A functions and generate various kinds of attendance reports.
Work Hour Calculation

- Daily and Weekly cycle scheduling
- Daily working schedule configuration
- Overtime calculation
- Rounding
- Grace

Holiday and leave Management

- Holiday schedule configurable by group
- Leave schedule configurable by user

Shift Management

- Daily and Weekly cycle scheduling

In/Out Board

- Real-time monitoring by T&A event

Reporting

- Daily / Individual summary and report
- Report by TA result (such as absence or late)
- Work hour displayed by time category
- Export in CSV and PDF
BioStar LITE
Embedded Web Server
BioStar Lite is an embedded web server software that is pre-loaded in select Suprema IP access control
devices. BioStar Lite allows the administrator to manage users and devices using a web browser from any
PC connected to a IP network. The software provides many convenient features including device
configuration, user management, door/zone settings and live monitoring.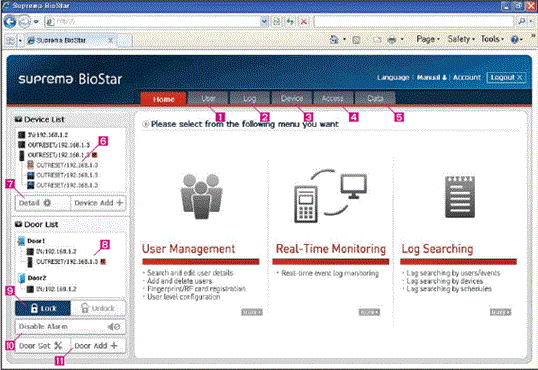 Features
Convenient management of the system within a web-based application.
Supports the network control of up to 10 devices. (1 Main, 9 Sub-devices)
No additional software installation required.
Remote door control of each device.
Easy anti-passback system configurations.
Synchronized configurations.
BioStar Videophone
BioStar Videophone is an unique and useful application used to create a video intercom system at no extra cost and no additional videophone equipment. To make this feature widely available, the installation/configuration and use of the system was designed for convenience and simplicity. Installation involves a quick installation of the BioStar Videophone application on the desired PC(s) and activation of the intercom feature within device.

The BioStar Videophone can be configured for two modes : Standard and Extension (Up to 8 extensions can be supported). The extension mode is useful when there are multiple departments within the same building; it will map an extension number to the desired PC in each department. Once configured and linked, a visitor can operate the feature by simply pressing the [CALL] button on the device. A pop-up window will appear on the linked PC and if the call is accepted, the BioStar Videophone will initiate audio/video communication with the device. If the visitor is approved, the operator can even grant access to the user by clicking [Open Door].
BioStar VideoPhone
- IP based video intercom system at no extra cost
- Real-time visitor monitoring and voice talk.
- Grant or deny access from a PC
- Up to 8 concurrent client PC connections to a device
- Available with BioStation T2 and X-Station
Fingerprint Terminals

BioStation T2
Innovative features with Suprema's sophisticated fingerprint technology.

D-Station
Dual-finger Technology based on 'Fusion Biometrics' algorithm

BioStation
BioStaton is a full-featured high-end fingerprint terminal

BioLite
World's smallest IP fingerprint terminal with access control and T&A features.

BioEntry
It blends the benefits of distributed IP system & high level biometrics security

X-Station
Touchscreen Access control terminal with face detection technology.

X-Pass
Ultra compact designed High-end leading-edge IP access control

BioMini
High level biometric security for PC & complex network environments.

Accessories
Encrypted communication I/O expansion for secure A/C system

Suprema OEM
Solutions to developers & S.I. for integration with various applications
Software

BioStar
Comprehensive A/C management software with intelligent IP readers.

Suprema SDK
Fingerprint enrollment and recognition for PC based application development.
Face Recognition Terminal

FaceStation
Next Generation Face Recognition Technology, perfect combination of beauty and performance.