Iris ID
Advanced Identity Authentication.

iCam 7000 series
The iCAM7000 series has features no other iris system offers. iCAM7000/7100 enables rapid iris acquisition with greater image collection for superior enrollment and recognition. A holographic targeting aid is just one part of an intuitive and interactive interface that includes voice and visual feedback for increased speed. All models feature the robust Iris ID countermeasure package experts agree sets the standard in the industry.
Features
Specification
Materials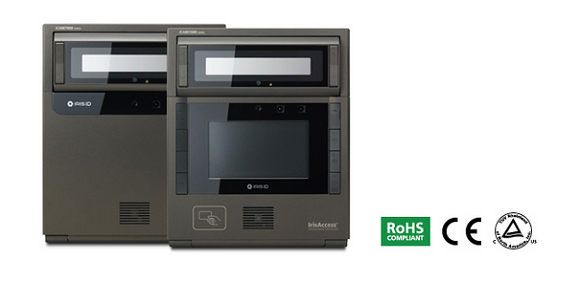 Benefits
High Accuracy 1:N and 1:1 Capability
High Speed - High Throughput
Exceptional Flexibility and Ease of Integration
Non-contact - Clean and Hygienic
Features
Fast Fully Automatic Dual Iris Capture
Easy Non-intrusive, Non-contact User Interface
Integrated High Resolution Face Capture Camera
Integrated Contactless Smart Card Reader
Leverage Existing Infrastructure
Capacity for Optional Third-party Surveillance Camera
Easy Installation and Maintenance
Backwards Compatible with IrisAccess 4000 System
Remote Management
Stand-alone Door Access Capability
Time & Attendance Ready (iCAM7100 series only)
Flush or Recess Mounting
Capable of 1:N Matching of Millions Depending on Architecture
Specifications for iCam7000 / 7010
| | |
| --- | --- |
| Dimensions (WxHxD) | 7.01" x 8.31" x 2.52" (178mm x 211mm x 64mm) |
| Weight | 3.3lbs (1.5kg) |
| Power Input / Consumption | 12~24 VDC, 2.0 Amps @ 12 VDC / 24W |
| Status LED | Multi Color - Red, Green, Blue for status and alarm indication |
| Iris Operating Range Indicator | Dual Color - Orange (out of range), Green (in range) |
| Voice Indication | English standard, others available by download |
| Iris Capture Range | 12"~14" (31cm~35cm) |
| Flash | High output flash for face capture |
| Face Image Camera | Face camera CMOS - 5MP |
| Transaction Log Capacity | Up to 1,000,000 transactions stored on device, unlimited on server |
| Relays x 2(door, other) | Control for all electric locking mechanisms and auxiliary relay for user defined operation |
| External Media Device Connectivity | Secure user accessible USB port |
| Operating Temperature | 32°F - 113°F (0°C - 45°C) |
| Storage Temperature | -4°F - 203°F (-20°C - 90°) |
| Humidity | Up to 90% non-condensing |
| Iris & Face Camera Rotation Angle | +35°/-25° |
| Communications | Ethernet (LAN, WAN), RS422, RS232 |
| Inputs / Outputs | Proximity Card Reader (Wiegand In), Embedded Smart Card Reader (Optional), Wiegand In, Wiegand Out, Dry Contact Relay x 2, Programmable GPIO x 4 |
| Equipment Supplied with iCAM7000 | Instruction Manual - Quick Start Guide |
| IrisAccess EAC Server for Enterprise, iData SDK | Refer to IrisAccess Enterprise Access Control Software specifications |
The following are available for download
Download Brochure
iCam7000
iCam7100 Time Attendance Series
Download User Manual
iCam7000
iCam7100
Download Hardware Guide
iCam7000
iCam7100
Download Firmware
iCam7000
Important Notes: All firmware and software is available by request only. All downloads are provided for the latest version of software or firmware compatible with the serial number of the unit provided. All downloads require a serial number in warranty to be provided.
Please register here to be a member in order to have access to links
Iris ID Terminals

iCam 4000 Series
Simultaneous two-eye capture, face-badging cam, motorized height adjust

iCam 7000 Series
The iCAM7000 series has features no other iris system offers

iCam Handheld
Iris+Face - Single Motion Automatic Dual Iris and Face Capture
iData Software

iData Software Products
The latest generation of the world's leading deployed iris recognition platform