News
What is New, Press release, News
Latest News
BKtronics GROUP
Clocking in with the e-finger
By Charles F. Moreira
Paying attention to what customers' wanted and responding to feedback prompted local biometrics solutions developer Bktronics Sdn Bhd to locally develop its e-finger time management system. The e-finger uses fingerprints for identification when employees are clocking in and out. Bktronics launched e-finger about two months ago.
According Bktronics manager S.H. Robertson Ong the company has already shipped 100 units to its distributor and dealers. With a recommended retail price of RM5,999, the e-finger package comprises a biometric reader device, which connects to a PC through a USB port, and the user-configurable Windows-based e-finger data capture, control, management, reporting and administration software. Ong claims that e-finger is a high-tech time management solution at a medium price. A basic electro-mechanical cardpunch clock typically costs around RM3,000 while a high-tech time management system can cost as much as RM8,000 a piece. The reader was designed by Bktronics and assembled using imported parts while the software was fully developed by its subsidiary BKsoft. The e-finger is said to support up to 120 employees and each e-finger installation can be implemented on a PC in different departments and linked together to a master PC over a LAN.
The e-finger software lets companies set security threshold and reader sensitivity levels, register fingerprints, enter employee particulars, contact numbers, as well as photographs and can also perform simple overtime calculations. The biometric reader has nine buttons – one for clocking in, one for clocking out and the others are user-configurable for functions like "out for lunch," "in from lunch," "out to see client," and "out to seminar." "The e-finger prevents employees from 'buddy punching' that is, clocking in their colleague on his or her behalf," said Ong. The e-finger software keeps track of employees who come late or leave early and the system automatically informs employees that they are late or are leaving early. It lets companies configure holidays, shift times, enter particulars of each employee's leave days, type of leave taken, sick leave, days when they are outstation or overseas as part of their work and it lets administrators graphically view each employee's attendance or non-attendance for every month or year. It can also generate 18 different types of reports including employee, department, shift, holiday and exception reports, report on employee's record of coming late, leaving early, absenteeism, incomplete clocking in and clocking out and so on and it lets administrators correct for irregularities.
It can also export the data in text file format with a choice of delimiters so that it can then be processed and analysed by third-party software. So far, e-finger is designed and targeted at office environments but Bktronics plans to come out with an industrial version with more rugged registration terminals based upon embedded "DiskOnChip" PCs and connected by LAN to a master PC for data consolidation, recording, management and administration. Bktronics has appointed DMG Technology Services Sdn Bhd as its e-finger distributor for Peninsular Malaysia and is currently evaluating potential distributors for East Malaysia.
JUNE 2001 - BKtronics Sdn Bhd BKtronics Sdn Bhd secured Biometrics Access Control Contract of Data Center for one of the Anchor Banks in Malaysia
JULY 2000 - BKtronics Sdn Bhd has secure Contract for the design, supply, install and commissioning of the Biometrics Finger print devices for Door Access Control. The installation is schedule to be completed within 6 weeks from date of contract. The customer is one of the Anchor Banks in Malaysia. According to the Director of BKtronics Sdn Bhd, Mr. Robertson Ong, "BKtronics and the biometrics access control involvement particularly on this project will be an important reference for the company to further penetrate and secure more contract in the banking security industry". The installation of the biometrics finger print device is networked and this will provide convenient and high security access control for the complete data center from the server running the template management software.
TM-NET secures the data centre with Biometrics Fingerprint device by BKtronics Sdn Bhd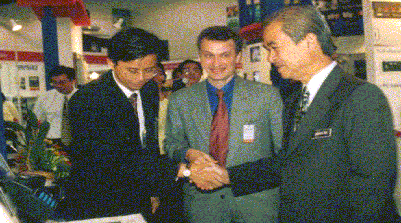 BKtronics Sdn Bhd participation in the recent ISF2000 Exhibition and Forum in the M.I.N.E.S officiated by YAB Dato Seri Abdullah Ahmad Badawi, Deputy Prime Minister of MALAYSIA Prime Minister with BKtronics CEO, Robertson ONG
MAY 2000 - BKtronics Sdn Bhd exhibition with Stratel has successfully create the awareness of the biometrics fingerprint products particularly the Fingerprint devices for Physical Access into the Security Market in Malaysia and neighbouring countries. The exhibition gave good exposure and presents of BKtronics in the security industry. The products has tremendous potential and will eventually replace the card access control system. Many are fascinated with the performance of the biometrics products especially with the speed of verification of less than 1.0 seconds, the high security and the user friendliness as well as convenient. The exhibition has also lead to many potential dealers of the security companies throughout Malaysia including Sabah & Sarawak. This will enhanced the distribution network of BKtronics genarally.
BKtronics ASIA Sdn. Bhd. was incorporated to serve EPCC Contractors, Shipyards, Project Owners, O&M Managers throughout the region with the most competitive pricing, technically complied and delivered within time and schedule.
Press Release
Clocking in with e-Finger
e-Finger Time Management System by Charles F. Moreora
Biometrics for Data Center
BKSB secures contract for Anchor Bank data center in Malaysia
TM Net Data Center
packages and web page editors now use Lorem Ipsum [...]
Many desktop publishing
packages and web page editors now use Lorem Ipsum [...]
Many desktop publishing
packages and web page editors now use Lorem Ipsum [...]
Many desktop publishing
packages and web page editors now use Lorem Ipsum [...]
o | R