Suprema

Leader in Biometrics & IP Access Control
D-Station
The Suprema D-Station represents a great leap forward in biometric technology. Dual-finger Technology based on sophisticated 'Fusion Biometrics' algorithm provides incredible accuracy and speed that no other biometric devices have ever achieved. Its powerful Tri-CPU engine ensures seamless operation of loads innovative features, and the ultra-wide touch screen LCD with intuitive GUI makes it extremely easy-to-use for both system administrators and everyday users. D-Station is not just the best of the breed, it's a whole new generation of biometric security.
Features
Specification
Materials
D-Station
Evolution of Biometrics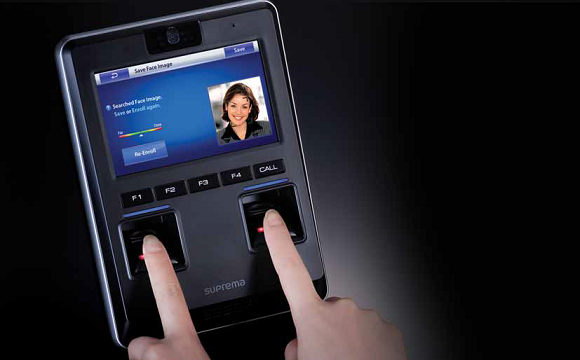 Main features


Dual-finger Technology
Suprema's dual-finger Technology takes the data gathered from multiple biometrics sensors and applies adaptive fusion algorithms to provide a level of performance and scalability that goes well beyond conventional fingerprint identification methods.

Powerful Tri-CPU Parallel Processing Architecture
Its unique Tri-CPU parallel processing architecture makes D-Station one of the most powerful biometric terminals in the market today. Two powerful 533MHz DSPs and 667MHz RISC ensure uninterrupted device operations and unmatched biometic operational performance.

5.0" Touchscreen LCD & Intuitive GUI
The ultra wide 5.0" WVGA touchscreen LCD provides D-Station with a robust heavy-duty user interface designed for extreme usage and the precision and accuracy required in biometric access control and high-traffic time and attendance systems. Its intuitive and user friendly GUI provides a quick and easy access to all features and functions.

Distributed IP Access Control System
D-Station provides both reader and controller functionalities in one device. One device can scan ID data, manage users and control access from the edge of a system. This will allow for a simple localized setup and improve system stability by eliminating a single point of failure that can affect the entire system.

Video Phone Interface
D-Station's built-in camera, microphone, and speaker provides the device the ability to be integrated with conventional analogue based videophones or IP based videophones to create a simple interphone system. BioStar VideoPhone software is to support single/multi-operator interphone system.

Versatile Interfaces - Extra Flexibility (WiFi Option)
D-Station comes with IP interfaces (TCP/IP, WiFi, PoE) and conventional interfaces (RS485, RS232, Wiegand, USB) to provide higher flexibility and multiple installation options for different environments. D-Station also comes with 4 internal inputs and 2 internal relay outputs to control peripheral devices.

Unique Features and Extra Functions
• Accelerometer : Used to detect shock caused by tampering or vandalism.
• ISO14443 Type A & Type B Support: Provides greater versatility
• SAM(SIM) Card Support: Used for enhanced security applications.
• SD Memory Card Slot: Used to extend the memory capacity of the device.
• RS232 Interface : Used for GPRS/GSM based mobile connections and serial printers
Technical Specifications for D-Station
| | |
| --- | --- |
| Fingerprint Sensor | Optical Sensor X 2 with Face Recognition Camera |
| CPU | 667MHz RISC X 1, 400MHz DSP X 2 |
| Memory | 1GB flash, 128MB RAM (with SD card slot) |
| LCD | 5.0 inch WVGA touchscreen |
| LED | Multi-colour X 2 |
| Voice Instruction & Sound Indication | 16-bit Hi-Fi sound |
| Matching Speed | 1:10,000 < 1sec |
| RF Card Options | 13.56 MHz ISO 14443 A/B |
| Template Capacity | 400,000 (1:1), 20,000 (1:N) |
| Max User | 200,000 |
| Log Capacity Fingerprint | 1,000,000 |
| PoE | Yes |
| Interfaces | Wireless LAN, TCP/IP, RS485, RS232, 4 x TTL I/O |
| | RS485, RS232, 4 x TTL I/, 2 built-in relays |
| | USB Host SD card slot |
| Tamper | Accelerometer, Switch |
| Operating Temp. | - 20°C ~ 50°C |
| Operating Voltage | 12vDC |
| Dimensions (mm) | 148(W) x 204(H) x 48(D) |
The following are available for download
Download Brochure
Suprema D-Station
Download Manual
Suprema D-Station
Download Firmware
Suprema D-Station
Important Notes: All firmware and software is available by request only. All downloads are provided for the latest version of software or firmware compatible with the serial number of the unit provided. All downloads require a serial number in warranty to be provided.
Please register here to be a member in order to have access to links
Fingerprint Terminals

BioStation T2
Innovative features with Suprema's sophisticated fingerprint technology.

D-Station
Dual-finger Technology based on 'Fusion Biometrics' algorithm

BioStation
BioStaton is a full-featured high-end fingerprint terminal

BioLite
World's smallest IP fingerprint terminal with access control and T&A features.

BioEntry
It blends the benefits of distributed IP system & high level biometrics security

X-Station
Touchscreen Access control terminal with face detection technology.

X-Pass
Ultra compact designed High-end leading-edge IP access control

BioMini
High level biometric security for PC & complex network environments.

Accessories
Encrypted communication I/O expansion for secure A/C system

Suprema OEM
Solutions to developers & S.I. for integration with various applications
Software

BioStar
Comprehensive A/C management software with intelligent IP readers.

Suprema SDK
Fingerprint enrollment and recognition for PC based application development.
Face Recognition Terminal

FaceStation
Next Generation Face Recognition Technology, perfect combination of beauty and performance.