Morpho
Morpho solutions are used worldwide to tackle crime,
protect identity and improve security.
Morpho 3D Face Reader
The Morpho 3D Face Reader™ provides lightning-speed, hands-free access to offices and restricted areas. By analyzing the three-dimensional structure of the user's face, it achieves extremely accurate matching while ensuring high throughput. With Morpho 3D Face Reader™, access control is highly secure and as simple as a quick glance!
Features
Specifications
Materials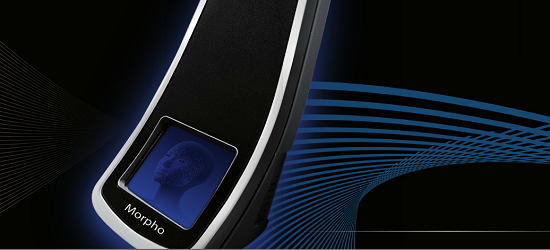 Morpho 3D Face Reader™

Fast, Convenient, Secure Facial Recognitio
- Real-time 3D imaging technology
- Hands-free access control
- Identifies in under a second
- Accurate even in poor lighting conditions
- Tolerant to facial angles and motion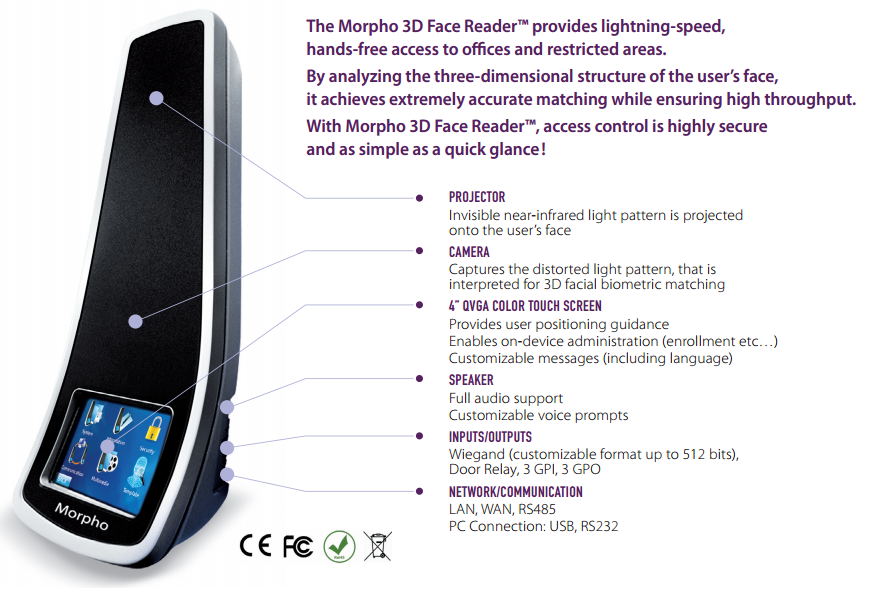 Technical Specification for Morpho 3D Face Reader™
Identification mode
Up to 3,000 users
Multifactor Authentication mode
Using PIN on Touch Panel or user's ID on Badge
Internal database capacity: 100,000 templates
Event Log Capacity 1 Million logs
Tamper Detection
Power Supply
12 to 24V DC
Power Draw: 0,5A @24V DC
Power over Ethernet (PoE)
Dimensions (H*W*D)
355*132*116 mm (13.95*5.19*4.57 inches)
Operating Temperature
5°C to 45°C (41°F to 113°F)
Administration options
On-device using Touch Panel
SecureAdmin™ and SecureTranslate™ PC applications
SecureSDK for custom built applications
The following are available for download
Download Brochure
Morpho 3D Face Reader™
Download Manual
Morpho 3D Face Reader™
Download Firmware
Morpho 3D Face Reader™
Important Notes: All firmware and software is available by request only. All downloads are provided for the latest version of software or firmware compatible with the serial number of the unit provided. All downloads require a serial number in warranty to be provided.
Please register here to be a member in order to have access to links
Fingerprint Terminals

Morpho Access J-Series
Elegant design and high security in a small package

Morpho Access 500+
Fast, Accurate and Reliable Fingerprint Access Control and T&A Terminal

Morpho PC Solution
USB Multi-application Fingerprint Scanner

Morpho OEM Modules
Compact Biometrics Module for small form factor

MorphoSmart SDK
A simple SDK to develop any kind of application

Morpho Software Applications
Easy-to-use PC application compatible with any terminal of the MorphoSmart

Morpho iDENT
Morpho iDent is a product designed for mobile identification in the field
3D Face Reader

Morpho 3D Face Reader
Fast, Convenient, Secure Facial Recognition
Multimodel Vein Finger

Morpho Access VP-Series
Multimodal Finger Vein and Fingerprint Technology for Physical Access Control