Iris ID
Advanced Identity Authentication.

iData Software
he latest generation of the world's leading deployed iris recognition platform comes with several specially-designed software offerings designed to exact optimum performance from the system. It's powerful, versatile, and the smartest biometric system software ever.
iData EAC
iData SDK
iData CMA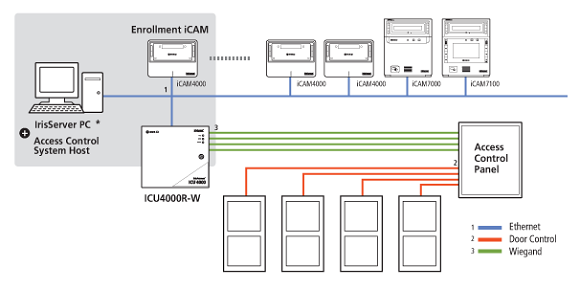 iData™ Entry Access Control (EAC)
Features
The world's leading iris recognition Entry Access Control software and workhorse of the iData™ software lineup is iData Entry Access Control (EAC) suite. A highly versatile offering, IrisAccess® allows seamless integration within virtually any Physical Access Control System (PACS). iData EAC provides high level integration configurable with Wiegand, relay, GPI/O, and RS232/422.
Additionally, a variety of software development tools are available to provide integration with PACS system user credential processes, and report management systems. iData EAC can empower the IrisAccess system to operate and provide best of breed biometric security in an integrated or stand-alone environment with a repertoire for enterprise use.
iData EAC software has an automatic grading process that ensures that only good or better iris images are enrolled in the system
iDentityCheck™ makes it impossible to have a duplicate record entry in the system

Device Administration & Operation Mode Management
IrisAccess devices can be configured with multiple operational modes, selectable within device web-configurable tools. Available Operational Modes: Operational Mode 1 (Option 1): Networked iCAM Control
Operational Mode 2 (Option 2): Smart Card On-Device Verification Mode
Operational Mode 3 (Option 3): On-Device iCAM Authentication (1:1/1:N)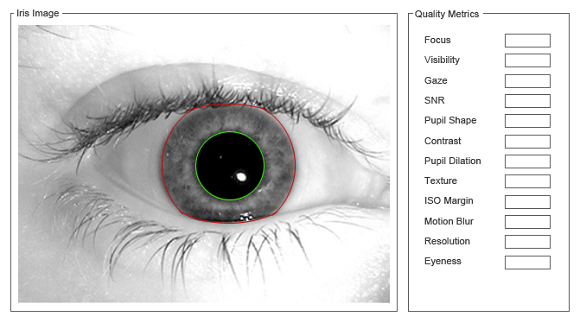 iData™ Software Development Kit (SDK)
Features
iData SDK provides the Application Programming Interface (API) to generate IrisCodes from the iris images for enrollment and to match an iris image against an array of IrisCodes for identification. It also provides interfaces to crop an iris image and to compress an image using image compression techniques such as JPEG, JPEG 2000 and PNG. It supports ISO iris image interchange formats such as uncompressed, cropped, cropped and masked and polar image formats.
Image quality assessments tools are integral part of iData SDK development environment. iData SDK performs analysis of multiple parameters to assign a scalar quality score to each image based on the characteristics derived from ISO/IEC 29794-6 and ISO/ICE 19794:6-2011. Additionally, it provides a wide array of image quality metrics such as focus, visibility, gaze, SNR, pupil shape, contrast, pupil dilation, texture, ISO margin, motion blur, resolution and Eyeness™.

Image Quality Feature Set
Provide actionable feedback to improve quality of image capture
Performs quality analysis and ensure compliance to ISO standards
High correlation of quality score with matching performance helps reduce error rates
Platform independent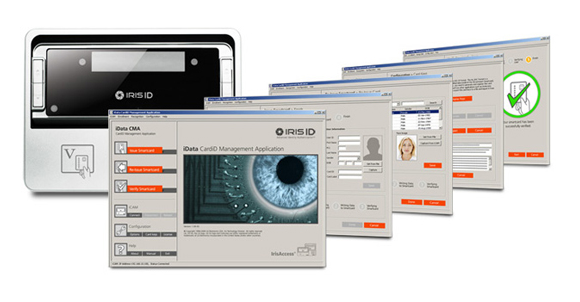 iData™ Card Management Application (CMA)
The IrisAccess CardiD Management System (CMS) is a part of the world's number one deployed iris recognition platform. Increased versatility and flexibility makes card configuration, iris enrollment and verification easier than ever. An intuitive visual user interface combined with audible prompts enables users to quickly enroll and verify either one or two eyes virtually simultaneously. The IrisAccess auto-tilt camera adjusts to the user's preferred height and angle immediately after the smarcard is presented to further increase speed and convenience.
When it comes to dual-factor authentication, the IrisAccess CardiD Management System is extraordinarily flexible. The combination of iData CardiD Management Application (CMA) and IrisAccess iCAM4010V-H1 with a device-embedded smartcard reader from the world's leading card reader producer HID , allows seamless integration with HID iClass smartcard solutions all around the world.
iData CardiD Management Application (CMA) software incorporates a unique functionality called iDentityCheck that performs a "one-to-many" search using iris against a database of enrollees to prevent duplicate enrollments. This feature is automatically activated during the enrollment process of the iData CardiD Management Application.
Iris Recognition - Non Contact Biometric
Highly Accurate Access Control
Fraud Screen de-Duplication
Works with Smart Cards
Secure Credential Issuance
Easy Re-Issuance Process
Multi Format - Corporate 1000 Compatible
Easy Administrative Interface
iCAM4010V-H1 with an embedded HID iCLASS and CardiD Management Application deliver a secure and simple card issuance, re-issuance and verification solution.
Iris ID Terminals

iCam 4000 Series
Simultaneous two-eye capture, face-badging cam, motorized height adjust

iCam 7000 Series
The iCAM7000 series has features no other iris system offers

iCam Handheld
Iris+Face - Single Motion Automatic Dual Iris and Face Capture
iData Software

iData Software Products
The latest generation of the world's leading deployed iris recognition platform