LED+ Signage
LED PLUS, Reliable & Quality Signs...

BK LED+ Windows Signage
Our LED digital message signs are very effective and can bring success to anyone in any industry. Both public and private organisations need bright, reliable, and quality LED+ signage. We are the best place for LED Signage Solutions.
BKtronics sell top quality state-of-the-art programmable electronic Scrolling LED Signs. We sell direct to the End User and Dealers, we are a supplier to many resellers throughout Malaysia.
BK LED+ Manager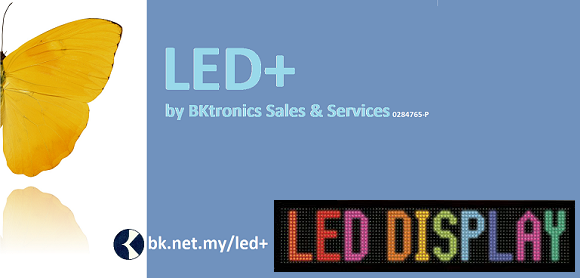 All of our Scrolling LED Signs come with a Free 1 Year Warranty against manufacturing defects and free technical support. They are made with strict quality control. Our signs are CE Compliant. They are weatherproof, very durable, lightweight Our LED signs are better, brighter and have more features than other LED signs.
LED+ have low energy consumption which saves up to 90% in energy costs. Our signs are very easy to install.
The following are available for download
Download Brochure
P10 Promotional Flyer
P10 Monochrome LED+
P10 Colour LED+
P10 Full Colour SMD LED+
P7.62 Full Colour SMD LED+
XLED+ Display Controller Card
Download Software
LED+ SIGN Solutions

Mono / Multi Colour LED
Single LED of Red,Green,Yellow, White & Blue of Multi LEDof Red/Green

Full Colour LED
3 LEDs colour of Red Green and Blue for full colour display messages

Full Colour SMD LED+
SMD Full Colour LED for high quality and custom size billboard or signage

Display Controller
Complete asycn and sync controller with serial, usb and tcp/ip connection

Custom Made LED+ Display
We design customised display LED messages. symbols and logo

Other LED+ Display
latest state of art technological advance LED system solution