Urban Green Energy

to power the world with renewable energy...
Vision AIR - UGE 4K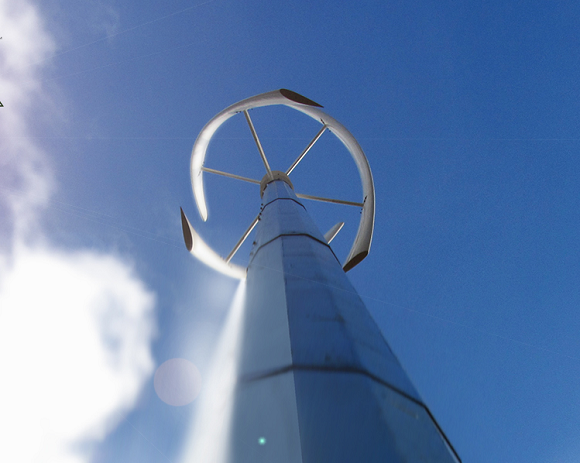 Being at the forefront of a cutting-edge industry is not easy.
Refining a design that is already at the top of its class is not trivial.
The latest innovation in wind technology, VisionAIR manages the perfect balance between strength and elegance, lightness and momentum. Incorporating years of research, VisionAIR is the most fully tested and certified turbine in its class, integrating design which is transforming the distributed energy industry, modernizing it to an unparalleled degree.
FEATURES
Dual-Axis Technology (DAT) - UGE has developed and has a patent-pending revolutionary new dual axis design that eliminates the main concern of other vertical axis wind turbines, that of premature bearing failure. Through this technology, our turbines significantly outperform the competition by spreading both horizontal and vertical forces along the length of the axis. For you this means increased durability and power production along with lower vibration and resistance.
Quiet - At UGE we believe a wind turbine should be seen but not heard. Fortunately, UGE wind turbines are so quiet, you won't even know they're spinning! Thanks to the turbines' low RPM and industry-leading design, they are virtually silent, even during high wind speeds, and cannot be heard over a typical AC unit. The low RPM and helical design leads to very low-vibration turbines which can be mounted with ease in imaginative locations.
Durable - Your wind turbine is going to be running day and night for 20 or more years; we encourage you not to take any chances with quality. Our focus on quality is what has earned us our reputation. We are an ISO 9001 certified manufacturer and take every precaution to ensure your wind turbine exceeds expectations from Day 1 through Year 20.
Easy Assembly - Ordering a UGE wind turbine is really exciting – we wouldn't want the installation to be anything less than a good excuse to party! We've intentionally designed eddy for quick, and easy assembly; allowing it to be assembled in just below one hour, by a group of three people.
The following are available for download
Download Brochure
UGE visionAIR BKVA-U3600
Download Manual
UGE visionAIR BKVA-U3600
Download Certification
UGE visionAIR BKVA-U3600
Vertical Axis Wind Turbine

Hoyi
Small, sustainable, and versatile, the HoYi! is perfect for off-grid applications.

eddy
The eddy wind turbine epitomizes simplicity and convenience.

eddy GT
eddyGT allows you to sell energy into your electric grid

UGE-4K
The powerful yet elegant UGE-4K turbine is the way to go.

UGE-9M
Perfect for large-scale commercial applications, UGE-9M makes an impressive environmental statement
Monitoring & Control

Weather Station
Professional weather station is like having a weatherman on your roof

View UGE
take full control of your energy production, direct connection between you and your green energy generation.