Urban Green Energy

to power the world with renewable energy...
Weather Station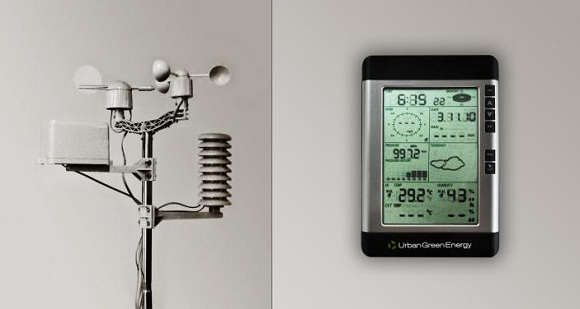 FEATURES
This weather station detects all variables necessary for determining your local weather, as well as your wind speeds and wind direction. The station is PC compaible and can transmit the data to your computer for easy viewing.
Wind
Accurately determine your local wind speeds, and wind direction. When it comes time to purchasing a UGE vertical wind turbine, this will allow you to choose the best site with the most extractable wind, and thus help to produce the most electricity. A cleaner planet can only be achieved one step at a time. The next step starts with YOU!
Pressure Allows you to predict the weather soon to come, or review your history. (Choose between hpa, inhg, or mmhg.)
Temperature We all love to know what the temperature is outside, but it's equally important to know how it compares to the conditions inside. We therefore have incorporated both interior and exterior temperature reading, allowing an accurate assessment in your choice of each day's apparel.
Humidity The more measurements we can take, the more accurately we can assess your local weather. The weather station precisely records humidity not just outdoor, but indoor as well.
Rainfall We've all told someone, "it rained so much!" but how much is "So much?" With this installed rain gauge, you can accurately assess the accumulation of rain. Then later review your data to determine historical numbers that apply to you.
Forecast By utilizing the various measuring equipment on this weather station, the computer is able to give you an accurate assessment of the weather to come. It's like having a personal weatherman!
Wireless Receiver All measurements are sent wirelessly from the weather station, to the handheld receiver. Allowing you to read all measurements from the comfort of your home.
Alarms Choose to for the option to have alarms go off based on user specified weather conditions. Let the handheld display tell YOU when it's time to bundle up.
USB connection Connect the handheld display to a computer via USB cable, and view your logged data over periods of time. What can be easier to read than a simple graph?
Calendar/Time With the ability to control the specific day, date, and time, the display can accurately log data over periods of time. Offering the option to reviewed maximum and minimum measurements based on user specified time periods.
Quick assembly We know you're excited to get this anemometer up and running, so we've coordinated the manual step by step with assembly. Allowing one person to properly assemble this complete weather station in under 20 minutes with nothing more than a screw driver.
The following are available for download
Download Brochure
UGE 1st Step
Download Manual
UGE 1st Step
Download Certification
UGE 1st Step
Vertical Axis Wind Turbine

Hoyi
Small, sustainable, and versatile, the HoYi! is perfect for off-grid applications.

eddy
The eddy wind turbine epitomizes simplicity and convenience.

eddy GT
eddyGT allows you to sell energy into your electric grid

UGE-4K
The powerful yet elegant UGE-4K turbine is the way to go.

UGE-9M
Perfect for large-scale commercial applications, UGE-9M makes an impressive environmental statement
Monitoring & Control

Weather Station
Professional weather station is like having a weatherman on your roof

View UGE
take full control of your energy production, direct connection between you and your green energy generation.